Work with young people in Moldova
In the Republic of Moldova, CONCORDIA offers its own centre, social housing and a youth club especially for young people.
Casa Ignatius - a youth centre with sheltered housing
Our youth centre Casa Ignatius in Chișinău was founded in 2016 as a non-profit offer for young Moldovans aged 16 to 25. There, they have the opportunity to participate in social and vocational counselling, take advantage of educational and recreational opportunities, and generally inform themselves about areas that are part of growing up.
We want to contribute to the social integration of young people, most of whom belong to the group of so-called care leavers. Care Leavers are young people who have grown up partly or entirely in family-like groups or in foster families and are now leaving this protected environment to start a self-determined, independent life.
In addition to activities similar to those of a day centre, a sheltered, temporary living space is available for 19 people. These young people are strengthened by CONCORDIA in their social skills through various activities so that they can later live self-determined lives on their own. In addition, they receive support in their education and training, for example through job coaching, visits to the authorities and psychosocial support.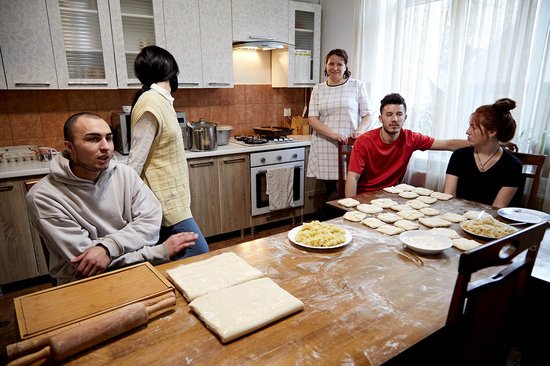 CONCORDIA Youth Club
The CONCORDIA Youth Club has existed in Chișinău for several years. Here, personal development activities and recreational activities are organised and carried out.
In the youth club, we want to offer young adults a safe space where they can participate in a wide variety of activities, form new relationships and share experiences. The aim is to empower the young people to the point where they can lead independent lives.
The club is active both inside and outside CONCORDIA and cooperates with other youth institutions and experts. In doing so, we also conduct various trainings so that the young people gain a more holistic perspective on life.
In order to further develop the knowledge and skills of the adolescents and young adults in the areas of public speaking and empowerment, we hold our own training activities. Workshops in healthy lifestyle, personal budget management, emotional health and communication management are also held to empower club members. In addition, we regularly offer psychological counselling as well as art therapy activities. As part of a job coaching programme, the youths and young adults also receive support in finding a job or internship and in preparing for job interviews.