No one would have thought that Petya would make such progress. No one would have thought that the favourite hobby of an 11-year-old girl with movement restrictions would be climbing training.
Petya did not have it easy in her younger years. She has difficulty climbing stairs, has limited motor skills and social interactions are difficult for her. She cannot manage her life independently. To support Petya in the best possible way, her mother stopped working. Together with her family, she has tried to find a way for her daughter to become more independent and to develop. But all her efforts were unsuccessful.
Then Petya's mother heard about the Concordia centre in Bulgaria. They didn't know if they could really help her and Petya, but Petya's teacher encouraged them to try.
One and a half years later, the tide has turned
When Petya came to the Concordia centre, she was cared for by the whole team. We provided her with psychologists and speech therapists. At the beginning it was difficult, Petya did not manage to stick to the rules, did not know how to interact with other children and adults. But little by little, the successes came. She became more and more independent and self-reliant.
In addition to psychological and speech therapy support, she receives help in coping with everyday school life at the family centre and takes part in various socialisation measures and sports activities.
And then came the breakthrough
One of the sporting activities offered at our centre is climbing. So what does this have to do with Petya's development? Petya's mental and physical development improved many times over when she started therapeutic climbing. And this despite the fact that at the beginning even her mother was sceptical whether and how Petya could manage to climb up the wall.
"I was speechless when I saw her hanging on the wall for the first time, and I was also amazed by my daughter's enthusiasm for it," Petya's mother says proudly.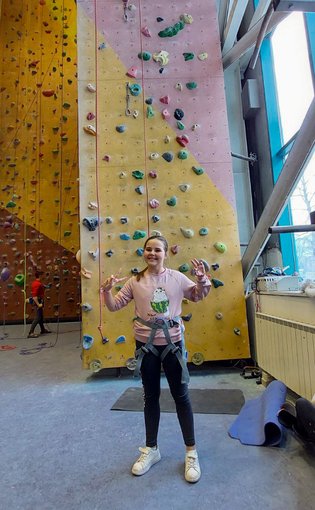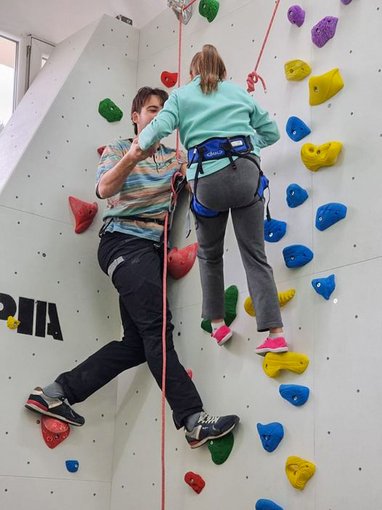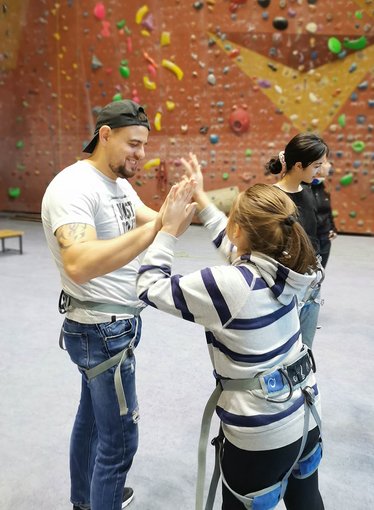 The girl now attends climbing lessons three days a week and is overjoyed. For the first time, she is separated from her mother, which is a huge step forward for the child's development. The practice at the climbing centre with more difficult routes also encourages Petya to socialise with other children and adults.
Vicky, Petya's climbing instructor, enthuses, "Petya's progress is one of the biggest we have seen in the therapy programme so far. She has learnt gymnastic exercises, can control her muscles better and her concentration and communication skills have visibly improved."
Petya is a particularly successful case, as Ivan, who also teaches climbing, knows: "Working with her is very emotional for me. After just three training sessions, she was climbing up the wall all by herself. At the beginning I didn't know exactly how to talk to her, but I tried to put myself in her shoes and then it worked. I also particularly appreciate her mother's commitment, because it's not natural for us to be in direct contact with the children's parents."
The power of sport
At Concordia Bulgaria, the power of sport and sport-social integration is great. Together with the children we practise different sports - climbing, football, running, swimming, skiing.
Building our own climbing wall and being able to offer training to the children we support directly in the family centre has always been a dream of ours. The climbing wall and the climbing training with two very good trainers for children with special needs has now become a reality thanks to the funding of our project "With climbing skills to new successes" within the "Call for Europe" programme of the UniCredit Foundation and the financial support of Waltopia, Andreev Investment Group, Merck and Endawa.
We support Petya and many other children in learning about their bodies, following rules, believing that there are no impossible things, and venturing further and further along their developmental path. Your support ensures this educationally valuable programme for years to come.