"Pax Christi" peace prize for CONCORDIA Social Projects
The worldwide Catholic peace movement Pax Christi recognizes CONOCRDIA's help for children and families in Eastern Europe and Ukrainian refugees in Moldova by awarding this year's peace prize.
On December 6th, CONCORDIA received a very special award in Rome. Through our commitment to vulnerable and disadvantaged children in Eastern Europe and support to Moldova, where thousands of Ukrainian families are seeking refuge, we were able to qualify for the Pax Christi Peace Prize 2022 nomination.
We were finally able to convince the committee with our work on site. We work with an extensive network of volunteers to provide quick relief to children in need. Our programs are based on the principles of the Sustainable Development Goals and the UN Convention on the Rights of the Child. Without hesitation, we responded to the huge need for help in the Republic of Moldova.
Great appreciation for the whole team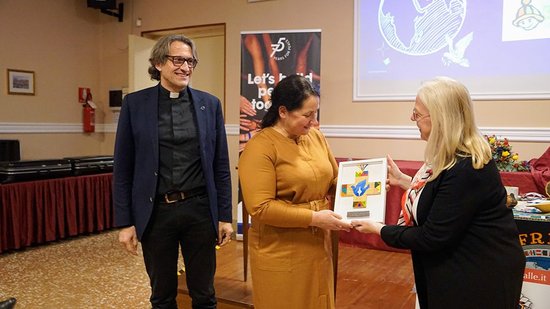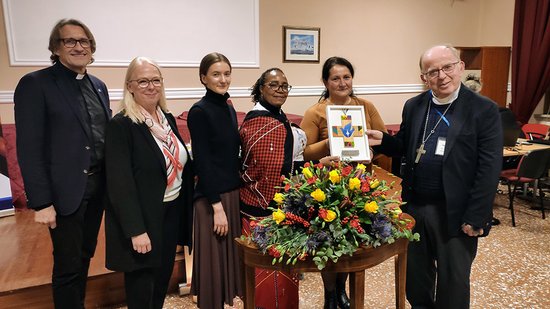 Father Markus Inama SJ, honorary board member CONCORDIA Social Projects
"For the entire CONCORDIA team, this peace prize means great appreciation for their daily courage and commitment to improving the living conditions of children, young people and families in need. 2022 is an extraordinary year of crisis due to the effects of the Ukraine war in our project countries, especially in Moldova. Each and every one of our team deserves this great recognition for their hands-on mentality and their empathy, which was particularly visible and noticeable in the refugee emergency aid on the Moldovan border of Palanca."
By presenting the 2022 award to CONCORDIA, Pax Christi recognizes and supports the organization's work in helping children grow into healthy, informed and responsible citizens.
"Through leadership and the mobilization of volunteers, CONCORDIA is transforming the lives of the most vulnerable in society," said Greet Vanaerschot, Secretary General of Pax Christi. "Your work gives children and young people the chance for a better life in which they have their future in their own hands."
The entire CONCORDIA team would like to thank you for the trust and appreciation!

The award belongs to many: Thank you to all local partners, to the volunteers, to the Moldovan team, to our colleagues in all countries and to the international team. We may be thousands of miles apart, but we share a vision that we are committed to. In this sense, we also feel connected to the previous and future winners of the Pax Christi Peace Prize.
Background information on Pax Christi
The Pax Christi International Peace Prize has been awarded since 1988 to organizations and individuals whose work promotes justice and peace at grassroots level.
In 2021, a network of Catholic radio stations in South Sudan was honored for its commitment to peace after years of civil war, the year before the "Pacific Climate Warriors", a movement for climate justice from the Pacific island states.
Father Markus Inama on peace
If you want peace...
... start with yourself. Do we reconsider where peace is missing in our actions and thoughts and where we may have withheld peace from others?
… look at the world from the perspective of others. At CONCORDIA, around 100 mostly young people complete a social internship every year. They step out of their usual environment and discover other perspectives that change their worldview forever.
... strengthen the community. If we really want to make a difference, we can only do it in communities. Sometimes it takes more than a helping hand or a word of comfort to strengthen a community. By promoting holistic and inclusive education in our projects, by supporting community, peaceful coexistence and exchange between local actors, by accompanying and empowering people in the long term and by supporting them where they need it, by passing on our messages to our extended network and inviting them to look to the marginalized fringes of our societies and go where the need is greatest.