Duration: 01.11.2021 - 30.06.2022
Country: Kosovo
Location: Tranzit, Prizren
Funding: Small Project Funding, Land Vorarlberg (Austria)
Short Description & Project Goals
The municipality of Prizren in Kosovo hosts large settlements of Roma, Ashkali and Egyptian minorities. In the heart of Prizren, in the Tranzit neighborhood, Concordia Projekte Sociale Kosovo (Concordia) took over operational responsibility for an inclusive and educational day center in 2021 - the current "Concordia Tranzit Centre".
Girls, young women and women - especially mothers - of Roma, Ashkali and Egyptian origin are particularly at risk of social exclusion. The widespread domestic, sexualized as well as gender-based violence is part of the reality of life for many girls and women. A targeted expansion of the learning and recreational activities of the Concordia Tranzit Centre are indispensable in order to tangibly and sustainably improve the living realities of girls and women from marginalized communities. To achieve this goal, counseling and self-help groups are initiated and accompanied by a multidisciplinary team. At the same time, participants are supported in their job search through individual and group counseling, and needy families receive direct assistance in the form of food and hygiene packages. In addition, their children have free access to the ongoing activities of the Concordia Tranzit Center.
Empowering Women of Kosovo (EWOKOS) is making a positive impact in developing a framework of action to empower women of the municipality of Prizren to actively shape a better future and overcome traditional gender relations in the long term. This overall objective will be achieved by providing professional social support to Roma, Ashkali and Egyptian girls and young women, and consequently, improved health well-being and increased educational and labor market opportunities.
Three immediate outcomes will be realized as a result of this project endeavor:
Young women and girls are aware of and take advantage of educational and employment opportunities;
appropriate and targeted services are freely available to women and their families in the community;
development and implementation of a professional approach to overcoming discrimination against women and realizing their full potential.
EWOKOS will reach a total of 15 girls and young women between the ages of 12 - 25. In particular, those who are affected by extreme poverty, have experienced abuse, neglect and discrimination, or are not in education or employment. In addition, 10 women, primarily mothers with many children, underage mothers, mothers of infants and single mothers will be reached. In addition, a total of 50 children will be involved in the planned activities.
Existing and planned activities will complement the landscape of social services in the municipality of Prizren. The Center for Social Work (CSW) Prizren operates under the mandate of the local government and employs approximately 27 full-time staff. Its mission is to provide social and family services as well as child protection activities. According to a rough self-assessment, the CSW can only cover half of the total social service needs in Prizren. Insufficient budget for services and non-existent sources of revenue, insufficient human resources and professional training for staff are the main challenges for the CSW.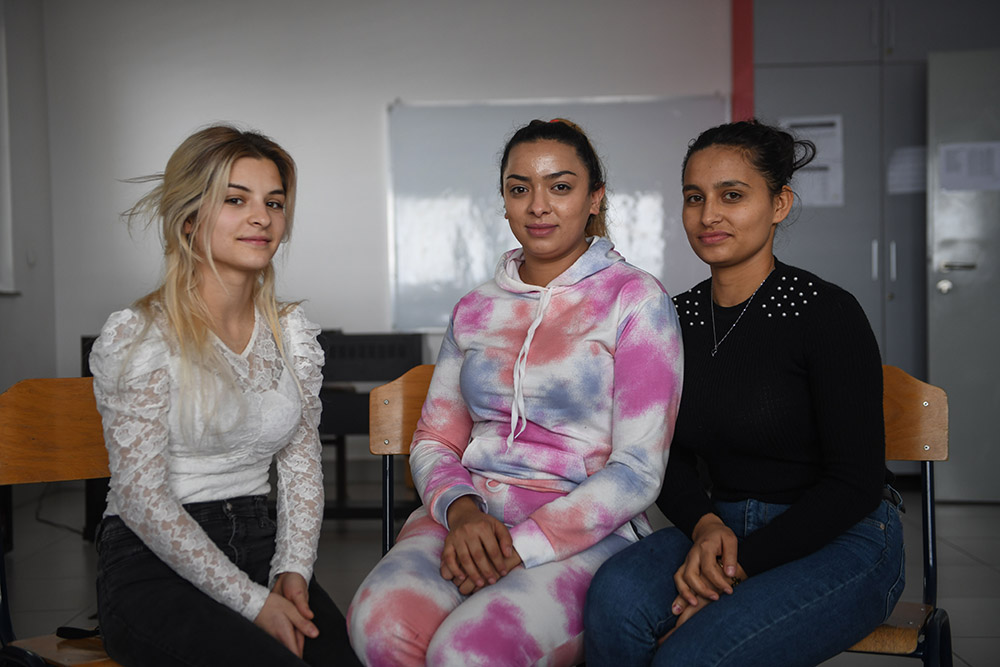 Initial Situation
According to UNICEF, every second child in Kosovo lives in poverty. Two thirds of the children of Roma, Ashkali and Egyptians in the municipality of Prizren live in poverty and one in three in extreme poverty. For girls, young women and women of these communities, the following main problems have been identified:
Within the Roma, Ashkali and Egyptian communities, children are particularly vulnerable: More than two-thirds of children have experienced physical and psychological abuse, and one in two girls is expected to be married before her 18th birthday. Nearly 20% of children from Roma and Ashkali communities have to work.
Lack of access to quality education for girls: One in four girls and one in ten boys from Roma, Ashkali and Egyptian communities do not complete elementary school and "even more children [...] are lost in the transition to secondary school." (UNICEF).
Discrimination and gender-based violence: persistent gender discrimination denies women access to economic, political and social opportunities. Gender-based violence remains a sad reality, with one in five women in Kosovo experiencing physical or sexual abuse and nearly one in three women experiencing sexual harassment.
Concordia works on the ground with professionals, community leaders and authorities to address these multidimensional problems at their roots. The interventions offered support the district's strategic implementation plan to sustainably minimize child poverty, make educational opportunities accessible to all segments of society, and address domestic abuse and sexual and gender-based violence.
Target Groups
EWOKOS reaches the following direct target groups:
15 girls and young women (aged 12 - 25, especially those affected by extreme poverty and exposed to abuse, neglect and discrimination; as well as those who are neither in education nor in employment);
10 women (especially mothers with many children, underage mothers, mothers of infants, single mothers).
In addition, 50 children will be involved, as well as families and relatives of direct project participants:
Children of young women and women who participate in the activities and interventions and place their children in the care of the Concordia Tranzit Center;
Families at risk of falling apart or affected by extreme poverty. In addition, families in need of support in the care of children or adults with disabilities, as well as groups of siblings left behind by their parents.
Primarily, girls, young women and women of Roma, Ashkali, Egyptian and other marginalized communities are involved in the interventions. The team builds on a long history of working with the children and families of beneficiaries, seeking out families directly and being visited directly by community members as needed.
Secondarily, the project targets "support systems" that form the immediate and extended environment for girls, young women and women. Through targeted outreach to the support system, support is sustained and the environment is integrated into the ongoing project as well as follow-up activities.