Tudor no longer has to hide its bread
First a devastating fire, hardship and hunger, and then his mother dies. Tudor, a boy from Moldova, found a sheltered home at CONCORDIA.
Tudor loves winter. And yet it makes him very sad every time it snows. Because the snow reminds him of the strokes of fate in his still so young life. What Tudor has already had to endure, one cannot and does not even want to imagine.
One cold winter night, Tudor has to watch his modest home go up in flames and everything is destroyed. A tragic house fire leaves the then barely two-year-old boy, his little sister and his single mother completely without possessions.
The family was now left with nothing and, in their distress, finds shelter with their grandmother, but even there space is scarce and poverty is great. In addition, Tudor's mother is ill and the grandmother is overwhelmed with the new situation.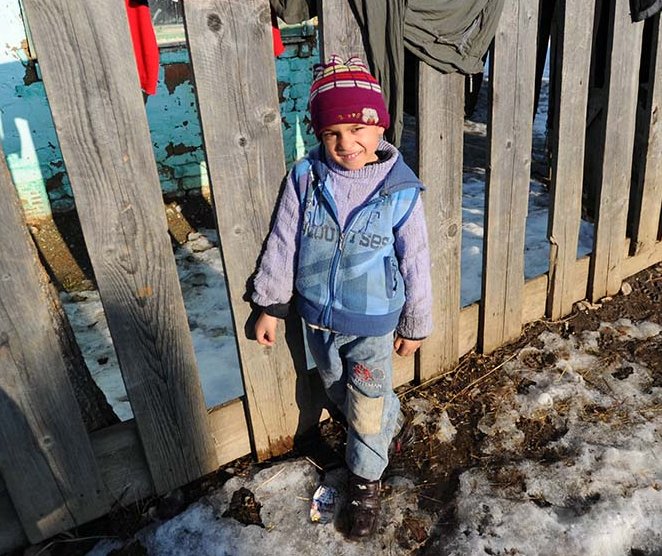 Hunger has finally come to an end
The mobile team of CONCORDIA, which travels around the poor districts of Moldova and distributes food, becomes aware of Tudor. At the age of four, little Tudor comes to CONCORDIA with his sisters. At first, he hides his biscuits and slices of bread under his pillow. He does not yet understand that in our care he will never have to go to bed with an empty stomach.
Only at CONCORDIA does little Tudor find a safe and permanent home. With us, he receives what he so desperately needs: a safe roof over his head, enough to eat, warm clothes, education and prospects for his life.
Only a short time later, when it snows for the first time, his mother dies and Tudor and his sister become orphans.
In tears, Tudor tells:
"The last time I saw my mum, it was snowing heavily. Now my mum is in heaven. I think the snowflakes are greetings from her. I miss her very much!"
At CONCORDIA, Tudor finds comfort and hope.
Tudor has now grown into a young teenager and has found his new, long-term home with us.
Please help children like Tudor to have a better life! Every child has the right to a future.
CONCORDIA ensures a safe home and a protected childhood
Unfortunately, Tudor's heartbreaking story is not an isolated case. Moldova is the poorest country in Europe after Kosovo. The suffering of families and children is enormous throughout the country. They are therefore in urgent need of our help. Please help the poorest and most desperate children and families with your donation. Your valuable contribution has a direct impact.
Your support provides children like Tudor with hot meals, gives poor families a large food parcel and ensures basic medical care for the children in our centre.
We see to it that starving and neglected children can grow up in safe conditions under the care of loving foster families or supervised living groups. These are carefully selected by CONCORDIA and undergo thorough training. They are accompanied by our mobile teams consisting of social workers and psychologists.
* For the protection of the children and young people we change the names and if necessary the pictures. The stories of our programme participants are unfortunately a sad reality.