#concordiastories: The Story of Ramona
We have cases of young people who come in with behavioral problems but don't act them out on campus. That says a lot about the safe environment we've created here.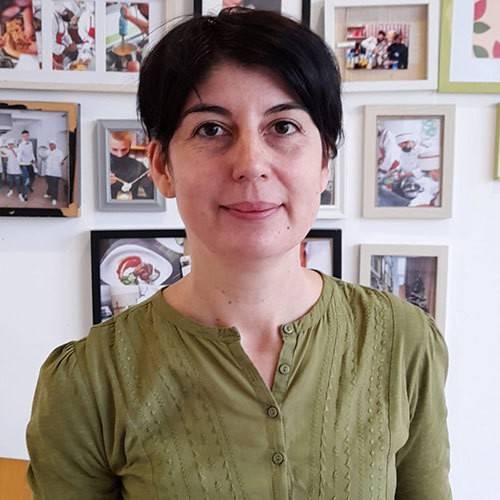 "There are young people who finally know better what they want next in life, because they defined here much better the direction. There are young people who make the most of the experience we offer here and they come back long after finishing the course thanking us for what they've learned with us."

Director Edu-Campus, Ramona Vasiloae Năstăsache
Ramona Vasiloae Năstăsache is one of the Concordia Social Projects´ Vocational School Program Directors. She joined the organization almost 8 years ago as a volunteer for Austria Residential Center, previously she worked for 5 years in an NGO and several years in the Social Services Department of Brasov City Hall, thus her professional experience was the right one for starting a new career in Concordia. After 2 years of volunteering, Ramona decided she wanted to be the organization's employee, but at that moment there were no open positions in Concordia. The first one was open in Edu-Campus in 2015 and Ramona came to Concordia as a trainer.
Next, Ramona Vasiloae Năstăsache talks about her beginnings in Concordia and about her current activity in The Vocational School from Edu-Campus Ploiesti.
How did you learn about Concordia?
A friend of mine from Olanda told me that there was a big organization in Romania called Concordia and that they had also open projects in Ploiesti. I was on maternity leave and I was looking back then to get involved in volunteering. This is how I got to Austria Residential Center as volunteer, working with children for their personal development, helping them with homeworks and other tasks. After 2 years with the organization, I decided this was the kind of job that I would like to have after finishing my leave and expressed my intention to occupy an open position in Concordia as employee. It took a while until things settled and I was hired as trainer in Edu-Campus, a project that was just starting to take a shape.
What did you teach?
I started as a trainer for The School for Life and I taught the youngsters mathematics, personal development and financial education.
How did you find the organization as employee?
I came here knowing from the volunteering period that Concordia was a big organization where one could grow professionally, I identified myself with the organization's mission and activity, so I was open to get through the period of accommodation in the new role, to know the organization as employee.
What can you say about the first period as a trainer in Edu-Campus?
The project was a new one, thus there were many things missing that time, thus I went straight to procedures and curriculum elaboration and implementation and other organizational activities. I found here an interesting management approach, that of bringing the team together very often. We used to meet all periodically, people involved in the project were asked for their opinion, their inputs were appreciated and used. I liked that. There were many things in early stages when I camehere, but there were many working groups as well and that generated lots of good ideas, concepts, processes.
A year and few months later you were promoted Educational Programs Coordinator in The Vocational School. Did you feel a development leap together with the new position?
Yes. If during first months as trainer I felt as if things were just coming from my side towards the organization, starting with this new position I experienced a growth period because I started managing a team and I learnt how to develop it. Further more, I had to improve the work flow and processes, how to respond more promptly and efficiently to beneficiaries. All these were, for me, opportunities to develop professionally.
Currently you are The Vocational School Program Director. How is this role for you?
Challenging, difficult, but also very beautiful.
Tell me about the project, how does it look now, almost 6 years since you came here?
It is very clear that things have changed radically for the better, the project has grown a lot.There are over 40 beneficiaries who take the 4 classes of The Vocational School: bakery, kitchen, waitress and horticulture. On top of their professional training, accommodation and meal services that Concordia covers, we have also other facilities for them:
The School for Life where our beneficiaries develop financial skills and learn about employment contract, job interview, and other aspects related to getting a job and keeping it. Also they work with a psychologists in personal development groups, they learn English and applied mathematics.
Job coaching, a process through which young people are prepared and supported to find a job and to identify a home for when they leave the campus. We have partners in Ploiesti and Bucharest where internships are organized in profile units and for many this is their first contact with a potential employer and the work environment.
Case Management is the process through which a multidisciplinary team creates personalized intervention plans for each youngster, putting into practice one of the core principles of The Vocational School: we have a holistic approach of younsters education and a tailored plan for everyone.
Social assistance services, medical services according to beneficiaries' needs, psychological counseling are other services we provide for the students.
How do you measure the impact of the intervention among the beneficiaries of the Vocational School?
The key indicator is whether, after leaving the school, the student manages to get a job and keeps this job for a long period, if he manages to have an independent and self-sustained life. What I can point out is how interesting is to notice how a student is when he enters the school and how he changes along the way. We have cases of young people who come with behavior problems and they don't manifest them on campus. That tells us something about the safe environment we created here and we consider that this is a success because we created a place where a youngster no longer feels the need to express himself through bad behaviors in order to get attention or to achieve something.
There are young people who finally know better what they want next in life, because they defined here much better the direction. There are young people who make the most of the experience we offer here and they come back long after finishing the course thanking us for what they've learned with us.
What else is rewarding in you job?
Beyond the fact that I fully feel joy of professional and personal development continously for almost 6 years now, I really like the part of working with people, the project team. This is a beautiful and challenging part of my job, also provocative. There is that satisfaction that comes when, let's say, you have a more difficult colleague in the team and you manage helping him integrate through various interventions. Then, it is always rewarding for me to notice that I can rely on the team and together we can grow this project more and more each day.
What keeps you still here, in Concordia?
Exactly what is challenging has kept me here for 6 years, my job is not a tiring routine, new situations arise every day, that require my attention and intervention. There are moments when we have to reposition ourselves, to reprioritize and this can be challenging. But, I have to say, this is also good for me, I find myself in this dynamic way of working.
What have you learned all these years?
I learned a lot: theoretical information from the daily activity or the trainings, developped my project and people management skills. I learned about myself that I can do what I set my mind to, that there is always room for better. Very important, I confirmed myself that life is a continuous learning process and where there is a will, there is always a way to do good things.
What does Concordia mean today for you?
It means more than an employer and that's because, over the years, there were situations where the organization has shown me its support beyond the professional area. Iy is something that I always appreciated. Concordia is an organization that invests in people. Moreover, it is a valuable organization because it constantly strives to do things better and better for beneficiaries, but also for employees.
Do you want to support vocational training for young people? Help us to do so. Every contribution counts!